Lets start here, with how I won this trip.

They had this thing on my radio station called Goo Goo For the Goo Goo Dolls! You had to go to this Hawaiian store (which was one of the three sponsors) , and dress up, or do whatever you want to do to go Goo Goo For the Goo Goo Dolls!. You had to display The Goo Goo Dolls, 107.5 the River (the radio station), and the Hawaiian store, Hilo Hattie. We were not planning on doing this because that store is more than a half hour away, and we thought we would never win. But then, my mom was calling the station to request Big Machine, and the DJ happened to know that we LOVED the Goo Goo Dolls, so he started to tell us more about the contest. He told us all that we had to do, and that actually it was supposed to end that day, but no one had entered yet, so we would have a HUGE chance of winning. So, my mom said, OK, I think that we will. I was pretty excited, just thinking about what we could win! So, we went down there and entered. We went on the Saturday before the Monday that it was over, and my mom said that we could get her best friend, Donna, and her son Justin to come and help us even though if we won, they could not come. So, this is how our picture turned out. We were not allowed to look at it before they put it on the internet, or take it over. I knew that it was going to suck, but anyway Here is the pic

On Tuesday, they put the pictures up on the internet for people to vote on. There was only 2 contestants ; our picture, and this lady that looked desperate. So, the voting went on, and you will never guess who won, we did. (That was a toughie) This is what we won : A plane trip to and from LA, a hotel stay for 2 nights, and the tickets to an LA GOO GOO DOLLS show. I was so excited, especially because I had never flown, and I never planned on it, but I would do it for the Goos! Then, the really nice guy from Warner Brothers, said that he had gotten us backstage passes to the show! I was SO happy, because I really wanted to meet them again. So I was looking forward to that too. So that is how I won, now here is the real story

Friday Morning (Still feels like Thursay Night) 4:00 am

My mom wakes me up, and tells me that my grandma is here to take us to the airport, I need to get my butt in gear and get ready to go. So I get up, get all my stuff ready to go (such as the camera, stuff for them to sign in case I win, paper and pen to write down set list, and so fourth).

4:35 am We leave for the airport

We got to the airport around 5am, and our flight left at I believe 6:15 am. So, we get our baggage tagged and off into the plane, and then we went to sit in our terminal.

TickTickTickTick

6:00 am

The plane loaded, and we got on. Long flight, good plane food actually (the trail mix and apple juice). I listened to my head phones practically the whole way, mostly Goo Goo Dolls, some P!nk, and EMF. Then we arrive in Denver, CO. That is where we change flights. The Denver airport is HUGE. Its like a super mall. We had 3 hours before our next flight left, so we had a bunch of time to kill. I went to a bunch of magazine stores, and science stores because that was basically all they had. My mom bought me a bagel and orange juice, and since I was so bored, a magazine with P!NK on the cover. We went and sat in our new terminal and I read the magazine for like an hour. Then we load, and we head to Burbank, CA, which is where we get off. So, another flight (I love to fly now, and I like the window seats). So blah blah blah about the flight. Then we get there, and I am freaking out - we are on California soil!

We get our luggage (I was worried it might not make it there), and we go to our hotel.

2:00 pm

We are in our hotel room, which is VERY expensive. Its called the Renaissance, and it has like 20 floors. So anyway, we get there, and I want to get ready for the concert right away. My mom wants to go and work out, so she heads to that room, and I take a shower, and get all ready. I wore my Gutterflower shirt (the one that is white with black sleeves, and has the GF in the middle of it), blue jeans, and my hair up. I take my Platinum Play EP CD, and a poster in case they can sign stuff.

4:30 pm

I am really nervous, because its almost time, and we have to go early so we can get our meet and greet. So, around 5, my mom says Lets go.

5:25 pm

We get there, and go to the hospitality door, and they say that they dont know anything about us. We were supposed to ask for this lady from Warner Brothers, and she would know who we were. So, they told us, just to go down to the other meet and greet door. That door is right beside where they are selling the merchandise, so I figure we should get the stuff before we meet them. So I get in line, and I bought 3 programs (for other people ), and 2 hoodies, one for me and one for my mom. 6:15 pm

The lady comes over, and tells us she is who we are looking for. She gives us these 2 passes that say Goo Goo Dolls, and the date, and Specail Guest on them. Its a sticker, and they made us stick it on ourselves. I put mine on my leg. The lady had this little fuzzy bear on her belt, and I asked her what it was. It was a fuzzy Pez dispenser, and Robby gave it to her! It only had one pez left in it, and that means he ate all the others. Is that not cute, he gave it to her, hehe. She acted like it was nothing special, but I guess she gets to meet them all time. So, I am the first one in line because I am obviously the biggest fan there. Vanessa Carlton had already started by the time we got back there. They took us through this door off to the side, and down these stairs. I am even more syked right now because we are ACTUALLY behind and under the stage. Then, when we get to the bottom of those stairs, I see a big sign that says Dressing Rooms, and has an arrow next to it. EEEKKKK!!! How cool is that, we are where the Goos dress! They take us into one of the rooms that are not being used. It is pretty big, and it is ALL checkered black and white. It looks like a big chess board. There are mirrors all over it, and a closet in the corner. There is this huge poster that has the Saturn ION thing, and the Goos on it, where I guess you are going to get your picture taken. The lady told us that it was taking so long cuz Johnny was not ready. Now, we wait even more for the Goos to come out

And wait

And wait

I was beginning to think that they were never going to come out, but the security kept saying "This is going to be very quick, don't mingle, or talk to them, just get in the picture, and get back in line, this is going to be VERY quick!!!" I was getting kinda disappointed, but hey, meeting GOO is meeting GOO, and that is worth it all. They tell us to get in groups of 4 or 5, but you can't have less than 4. So, my mom and I met these 2 nice ladies that lived in CA, and they liked the Goos a lot, but not to much, they did not know their birthdays or anything, but they knew the Goos names, and they had from A Boy Named GOO and up. So, they were at least fans. We had our group of 4, and now we were FREAKIN ready for GOO!!! Then, then they came out. I was so relieved because we do get to meet them, and they were so nice, and they did a lot more than the security wanted them to do, as usual. When we got up there (our group was the second one), I met Robby first. He put his hand out to shake mine, and he did this adorable little bow when he shook my hand, and said "Hi, I am Robby!" His hand was soft. My mom shook his hand next, and she said "Like we would not know who you were, *laughs*" Robby got this cute little shy look on his face. Then, we went past Robby, and Johnny was looking the other way, and I go, "Hey, Johnny!" He turned around and put one of his hands out to shake my hand, and with the other he gave me a "side-hug", and he said "Hey, how¡¦s it going?" I said something stupid like "Good" I was star struck, he was so nice!! I go back over to Robby to take the picture beside him. I stand over there, and Robby puts his arm around my waist, and hi head kinda on my shoulder! I was thinking, oh what the heck, so I put my arm around him too. They camera guy kept saying "Scoot closer, scoot closer!" So, if you can imagine this, Robby was squishing me! How awesome is that! He was on my left side, and my mom was on my right. No one else was on the other side of Robby, so I had him all to myself for like 30 whole seconds!!! His face was actually touching mine for a little while, (the guy had to figure out how to use our camera, and yes, we got to use our own camera!!!) My mom told me this about what Johnny did : She was standing there, and Johnny goes, "You know what, we need to hug", and he put his arm around my mom, and his hand was on my shoulder! To the other lady on the other side, he goes, "Oh come here you!" He was so cute, and so I had both of them touching me and my mom!! After the pic, I felt bad because I had not seen Mike, so as we were waking away, I waved like an idiot, and I go, "Hi Mike!" He got this awesome shy smile on his face, and goes, "Hi there", and he waved back at me!

After all of that, they told us, just go back around in the line, keep moving people. I was RIGHT behind the camera guy, and I was looking right at Johnny because he was in the middle, and I started to make funny faces. I think I stuck my tongue out, because Johnny started to crack up, and I think he looked at me and winked before the picture for them was taken. I was laughing so hard!! And they told my mom to put away her camera, but she still got another picture of them! The lady turned around real fast cuz she saw the flash, but my mom had already put the camera away, go mom! Oh yeah, Robby was wearing flip flops, and a red shirt, and Johnny was wearing a tank top, don't know what color, but for the first time, I saw him in a blue bandana. OK, there was this girl, she was prolly about 15-16 years old, and she was in a really bad attitude. She had her arms crossed, and her leg pointed like she was in a real bad mood, like she wanted to get this over with. Her parents asked the guard if she could get her pic with them all by herself, and they said "Sure". So they took her up there, and she was still in a bad mood. Johnny was SO nice to her, and he put his hands on her shoulders, started to shake her around, and make faces at her to get her happy, and you know what, she stayed the same. Even Robby was trying, he was talking to her and stuff, and she acted like she just wanted to leave. I was so mad, because they went the extra mile to make her happy, and she still just stood there, with her arms crossed, and did not say anything. I wish I was her, I would have been better than that, but oh well, I got a GREAT meet and greet, thanks Goos!

By the time we were done meeting them, Third Eye Blind was already playing. I kinda wish that I had heard Vanessa more than I had heard Third Eye Blind, I HATE them! Ug, they are the worst band. Their music is OK, but they have a real bad attitude, and he is showing off a lot! So, we got to our seats, whick SUCKED, and tried our best to watch Third Eye Blind, but we could not. Our seats were 48th row, which was really bad. My mom and I went out to the area where they sell food and merchandise so we did not have to sit though any more of TEB than we had to. My mom got a big pretzel, but I could not eat anything. When they were almost over, my mom and I went back to our seats. It made me so happy because I am telling you that it was soooo cold there!! My mom and I both put our GOO hoodies on!! When TEB was over (FINALLY), we went down to the front row of our section. We asked a bunch of people if they knew if the people next to them were coming back, and most of them did not know. Then we found 2 seats that they said no one had sat in through both opening acts. So, we sat there. The seats were still very bad, but hey, we moved up 18 rows, and that's amazing!

So, here is how the concert went, but first the set list:

9:26 pm


Big Machine
Long Way Down
Slide
Naked
You Never Know

9:44 pm


Truth is a Whisper
Dizzy
Here Is Gone

9:58 pm


January Friend
Smash

10:04 pm


Black Balloon
Think About Me
What Do You Need?

10:15 pm


Name
Lucky Star
Tucked Away
Broadway

10:30 pm


Sympathy
Iris
What A Scene

Encore :


All Eyes on Me
American Girl

After Long Way Down, Johnny did the thing where he introduces everyone. And he did a little greeting to the audience, Hi How are you, thanks for being here, etc. After Slide, Mike did this wonderful solo, Johnny said "Here is Mike, hit it Mike!' Mike did this little solo, and the lights were all blinking all different colors all around him, it looked very cool. Then, after Truth Is A Whisper, Johnny told this story about a scalper before the show. He said "We were driving in here, and we saw this guy that was selling tickets out there by the street. I rolled down the window, and asked him how much he wanted for a ticket, and he said $150 each. I said well, do you know who I am? The guy said, no. So I told him that I had good enough seats already" That was so funny the way that he said it! Then Johnny told this story about how hard it is to be a rock star, but he always wanted to be one, and it is worth it. He said it is better to be where he is now, than to not ever be here at all. Then (this is all after Truth Is a Whisper, he was very talkative) he told this story about being in a bar, and you are trying to decide what to drink. He said that these two girls next to him told him that they like Tequila. He said that in like a black accent. And then he said, "Well I like vodka, I think that is what I am gonna get." He said one of the girls said "Mr., why do you like vodka?" Johnny goes, "CUZ IT MAKES YOU DIZZY!!" Then he played Dizzy!

After Here is Gone, Robby comes on the mic, and he says "You know, we have been doing this for more than 15 years, and I love every minute of it. It's hard, but I love it!", then they play January Friend. During Black Balloon is when Johnny came out with the red bandana. And right before they played Think about Me, Johnny goes, "This song is about someone who does not f*ckin listen!" . After Think About Me, Johnny said "Is anyone here from Buffalo?? Right before Name, Johnny tells the story about his anxiety dream, I told it all in my Nashville experience.

( "In 15 years, I am going to be sitting at home watching TV with my kids...I have to have kids first *laughs* A commercial will come on TV that says 'Do you remember the years 1998-2002 (he also said the 21st century)? Well, you can have it now on two discs or CD's...' By then my kids will be about 13, and that's when they hate thier dad, what 13-year old does not hate their parents, and they will be like 'Oh dad, that's you, yuck!!!'" Then he did the opening chords for Slide)

Then, after Name, Johnny goes, "Sing a song, Robby, would ya??!" Then Robby went into Lucky Star. After Broadway, the silver curtain that was up fell, and a red one was there, I love it when they do that. When Sympathy was over, they brought out the famous disco ball! Johnny goes, "Come on, I know you can do it, come on ball, you are big balls! Hey, everyone, it's like New Year's Eve!" The greatest thing happened in the middle of Iris. Johnny just stopped playing and started to talk. He said something like "You know, a lot of people come up to me and tell me that Iris is "their" song between them and their wives or husbands. Or a lot of people just say that is a really romantic song. I have something really romantic for you guys, a lot more than this song." Johnny walked off stage, and Jason Freese, the keyboardist went backstage to get something. He came back with his girlfriend, Amy. He started out by saying, "Isn't she the most beautiful thing you have ever seen?" The crowd roars. Then he talked to her a little, saying that he loved her a lot, and he wanted to spend the rest of his life with her. Then he started to cry, and I felt sorry for him, but I was happy for what he was doing. Then, when he was OK enough to say something more, he got the microphone, and got down on one knee, and proposed to her. She did not say anything, she just jumped on him and hugged him! They twirled around for a minute, and Jason got back on the mic and said "She said yes!", they hugged and kissed again, and then, she got up to the mic (she was very shy), and she said "Yes!" It was so sweet to see, then Johnny and the guys come back out and Johnny said, "How sweet was that?? I think I saw Jason pee on himself! Well, after that, we can't top that, I guess we should all go home" and he starts to walk off stage. We all cheer really loud and scream something like "Come Back!", and so he does. Then they finish Iris.

After my favorite song, What A Scene (where he was playing the orange vectra, the red curtain fell, and that creepy girl was on! She is pretty I think, its just her eyes, they scare me. At one point in the concert, Johnny was talking about how cold it was and how its usually not like that. He also said something like he does not know how the people who live in that area can stand the constant noise from the venue. That is cuz if you look up on the hill to the left, it is all houses. Its really cool cuz the place is so residential. Johnny said I live right over that hill! *laughs* I thought that was cute, and I told me mom that we had to go there on Saturday although we did not.

So that was the concert, even though our seats sucked to high heaven, I had the greatest time!! I took about 3 rolls of film, mostly of the big screen, because it was bigger than they are. Even though our ticket, and the workers said no cameras (dont know why, it was outside), we took a bunch!! This lady in front of us, gave me her ticket, and it had not been torn cuz she said that I looked like I had a great time, so she thought I would like to have it, which I thought was nice because our tickets were torn. I put it in my GOO scrapbook. This drunk guy that was behind us was nice, but he kept cussing and wanting to take pics of us at the concert, to prove that we were there ok whatever and then at one time, he said that we did not have a pic of him, so he took the camera, made us turn around, and like got in our faces, and took a pic of us with him in the pic, so his face is gonna be like all big. Film is not cheap, and the more he takes, the more often we have to change the film during the concert, so even though he was trying to be nice, it was annoying. I loved the concert, and always will love a Goo concert! Read more if you want to hear more about our LA trip

I got up on Saturday morning at about 10am. I was so tired from the night before, as I am sure we all are after a GOO show. My mom went to the work room again, and I watched TV and called my friend Nikki (who is a GOO fan) on the cell phone. I was watching the movie "It". I was telling Nikki all about what happened and all that, it was cool. She was the one that told me to see the movie. When my mom got back, she took a shower, and I took a shower, and we got ready to go out on the town for a day in Hollywood. I wore my Gutterflower sweatshirt, hoodie thing because I WANTED it to be cold. We drove around in the car for a while trying to figure out what we were gonna do. We finally decided to go to eat first. So we stopped at this restaurant called the Sizzler. It was actually really good food. Then after we ate, we went to a place called Universal City. Its like a huge mall, with stores of all kinds, and restaurants. It was a great place I thought! We went to this one store called Sam Goody, which I think we all know, and you will never guess what the first thing I saw was it was a huge, like 10 feet poster of the front of Gutterflower, and right next to it was that pic of them leaning against the car we all know that one. So, I was like that is so cool cuz they had one county artist, one rap artist, and one pop artist, and then one rock, and of course it was our boys the Goos. We went to a bunch of other stores, such as the Hard Rock Café (no goo in there, grrrrr), this little toy store (had some interesting things), and we went to a little flurry shop, and got a really good drink kind of thing. We did a lot more, but I cant remember right now, all I know is that we were there!!

So, after we left from that, I told my mom that I wanted to go to this little store that I had seen going to Universal City. It was a huge CD store with CDs, posters, books, LPs, and all other music stuff you can imagine!! So, we looked for like an hour for the store, and at like 10:30 (they were still open) we found it!!! So we went in, and I started to look around I knew that I had all the GOO cds that they had, so I went to look over at the EMF section (my other fav band, although very behind he Goos of course). My mom bought me 2 singles from them intitled Perfect Day, and another one with that song, and a bunch of remixes. I was excited to get those, because I already have all the EMF cds, but no singles. So anyway, then I went over to look at the GOO CDs, just to make sure they did not have like a First Release. So I did, and I saw the Here Is Gone single. I was like, Well, I dont have that CD, so maybe I can get my mom to get it for me! She did, and I was like so excited, because I had been wanting that, and I got it from none other than LA! When we got back to the hotel, I listened to my new GOO cd in my headphones, and we went to bed.

On Sunday, we had a little time before we had to be at the airport, so we drove around to try and find a Kinkos to laminate our backstage passes. Well, we did not find one, and so we went to the airport. Hope you enjoyed reading my experience. :)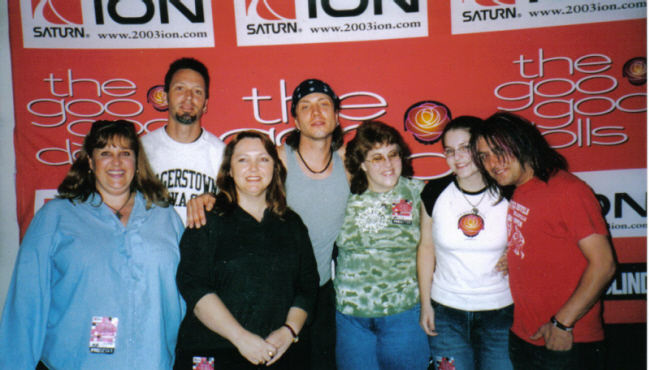 Look how close I am to precious Robby!