February 11, 2005

The contest has closed. Check the contest page for the winner and correct answer! The Goos have updated thier site, news of the new cd!!!

The Goos will be performing on TNT real soon!

"As part of the All-Star Saturday Night festivities, recording artist Kelly Clarkson will sing her chart-topping single "Since U Been Gone" from her sophomore release Breakaway,while one of America's great rock 'n' roll bands the Goo Goo Dolls will perform their number one hit on Billboard's Adult Top 40, "Give A Little Bit" from their platinum selling CD/DVD Live in Buffalo July 4th 2004. All- Star Saturday Night will be televised on February 19 at 8:30 PM (ET) on TNT"

Have a goo-ey day.
January 26, 2005

Hello! I have added a couple things.
-3 new things to the Fun Stuff Page
-We have a new site of the month!
-Added all new page! My Merchandise
-Don't forget to check out the Question of the Month, which is a contest this month!
-All New Goo of the Months!
-Added a link to some of my other Artwork under the A Lil Bit Bout Me page
I am still working on cleaning up some of the pictures. I want to resize the really huge ones. :)
That's all for today. Enjoy!
January 18, 2005

This in from the "Give A Little Bit Journal"

The RIAA has officially notified us of the following certification:

Gold & Platinum Music Video Longform -

The Goo Goo Dolls "Live In Buffalo, July 4, 2004"

Way to go Goos!

Please donate to Unicef, it helps children victims of the tsunami. The Goo Goo Dolls, and Alyssa Milano (National Ambassador) support this fund. (Click on links for more info)

-Added two new goo sites to the Links page -In process of fixing some of the pictures -Added some things around the site about my graphics

Have a GOO day!
Thursday, January 13, 2005


Hey! Welcome! Finally, after what seems like forever (over a year and a half!) I have updated EVERYTHING! Look here for all the updates, and check around to see for yourself. There have been a lot of changes here at "…I Don't Think I'll Make It On My Own…", and a bunch of added things! By the way, this entire site was made, and managed using DIAL UP. So please, appreciate it. ;) Here is a list of what all's been updated.


-2 new banners to link to me
-The navigation pictures are all up!
-No more adds! I now pay for this site
-new layout (go to polls to tell me how you like it)
-cleared broken links and updated web domains and added some links
-About me page
-Contact info
-Added a link to buy live in buffalo
-Added a new goo quiz
-Added people to the join list
-Fixed up the wallpapers, when you click on them, they actually work!
-Added a new wallpaper made by me
-Added a new wallpaper to others
-Fun stuff – cleared up bad links
-All new Goo of the month!
-2 Brand new polls
-Added 2 new experiences by Mary!
-Added Mary's concert pictures!
-Updated albums section
-Fixed the guestbook!
-Updated Goo Rooms
-Added 10 new Johnny pix
-Added 3 new pictures of Robby
-Added a picture of Robby with his cat to the Goos room
-Added 6 new "no shirt pictures"
-Added a biography
-Added lousiville concert pictures
-Added Memphis Concert Pix
-Added a new page in the pictures section titled, "My Signed Stuff".
-Made this page have an archives so that I could start fresh updating!
-Added page of "My Room" pictures
By the way, 'Give A Little Bit' Hits #1 on Adult Top 40 Billboard Chart!
Click
here
to see the video.
Thanks for coming, and check back for more updates!
~Raven
Picture of old site: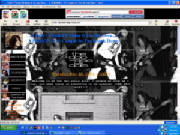 June 23 2003

Wowie!!! Long time!!! Well I went on vacation to colorado, so I missed getting to update! NEWS : I made it so that you can click on the wallpapers to get the one you want! YAY! Finally... I added some links, and updated the contact me, and about me sections. I am currently typing my already made quiz for the quiz section, and still working on my navigation links! Whew! Still work in progress... oh yeah! I made a new version of the site! New look... I hope you like it! Here is a pic of the old one :
So yeah... it's new. About the band, hmm.. they are starting another tour, mostly some Fair dates, which I am going to a one! I am going to three shows in August, cant wait for that! WOG changed, and I am going to get the new URL up tommorow... that's all for now, update more laters!

LINKIN PARK ROX! CHECK OUT WWW.LPUNDERGROUND.COM!
------------------------------------------------------------
May 28 2003

Ok!!! I think I have done ALMOST everything to update... I have added a few more pictures (and going to add more), I have a new question of the month, the new tour dates are up... a BUNCH more wallpapers up there for you to ask for... I have different contact information, so check out "a lil bit bout me" to see those... Oh yeah!!! My survey that I had up left me... tripod didn't support it anymore... so I had to make a new one with HTML! (aren't you proud of me? I am... LOL). So check that out! Also... there is one new poll, and e-mail me if you have an idea for a poll question... I belive that is all... All I really have to update now is extra pix, the navigation buttons (as you can notice half are buttons and half are links LOL), and I need to write one more Concert Experience of Mine... also, I am going to try to update occasionly on what the Goos are doing... I am going to at least one show this summer... Looking forward to that!!! I want to read some GOO articles (current ones) so if you find some, email em to me... thanks! Peace

PS -- How could I forget to tell you... THE SYMPATHY VIDEO HAS BEEN RELEASED!!! Go to mtv.com to vote for it... and if you haven't seen it, go to googoodolls.com and download it... :)
------------------------------------------------------------
May 26 2003

UPDATED!!!

Whew... a long long long time... I been really busy, and had no time for sites... but now it's summer, and I got's lots of time!!! Actually, I haven't updated anything yet, but I will, and I added a Birmingham review of my concert from way back when... Love ya'll! Check back soon for updates!

------------------------------------------------------------
January 30, 2003

OMG!!! I am so sorry I haven't updated here in like forever!!! I am really sorry! I haven't updated the site at all yet, but I wanted you all to know that I am still here, and to expect updates :)
----------------------------------------
October 18 2002
Sorry for no updates in the "What's New" section of the site, but I am very busy. As you can see I have a new layout, I hope you like it, and the site is currently being updated. When all the updating it done for the moment, I will list all the new things that have been done, and some things that are going on with the Goos!! Until then, click
here
to get some info from them!
-----------------------------------------------------------
Sept. 11 2002

I don't really like to type that date... but you know. Today is a day that we need to remember all those who lost thier lives to the terrorists attackes, and all the families who lost loved ones. So, even to you people out there who do not live in the USA, please pray for our country. Anyway, to GOO news... I have not updated in a couple weeks... sorry, really really busy!! I went to the NASHVILLE CONCERT, and I won a back stage BBQ... so click on Concert Experiences, and mine, and then on mine, and read about!!! Also, new GOO OF THE MONTH, another link, hmm, I think that is all about the site, although you better look around to make sure I did not forget anything, LOL. About the GOOs, they are on Leno tonight playing American Girl, if you read this b4 then, you should check it out... has to be good!! I updated the homepage, but I think you could tell... LOL. I think the Goos have done a video for Big Machine, but maybe not yet. :) Let me know when it is out, thank you. I am done...

GOD BLESS AMERICA

-----------------------------------------------------------

Auguest 23 2002

Hmmm, where to start... I think that I will tell you what I have updated! There is a new question of the Month, if you think you can answer it... LOL. Also, there is something new on the "Goo's room" page, look in Johnny's INTERNET room (had to clarify, if I could look in hius real room, would I have this site?), and you will see it. I am going to do one for Robby and Mike, but I have not yet. And there is one more thing under the "Fun Stuff" sectoin, you might like it, you might not... So about the Goos, well they are having 2 contests that I know of, but you have to live in LA, which SUX! But there is one that where you get the Goos to redecorate your room, and one like the FANatic thing. Don't know a whole lot abotu those, but if you live in LA, e-mail me, and I can get more info. And the Goos will be on Sabrina in the next month or 2, be looking out for that! I am putting up another poll that is not Goo related, and that one will go up on Saturday, well it is Saturday morning at 12:45... so later on, let me put it that way... you will like it though... Again if you have not either gotten the CD, Gutterflower, or not gone to a GOO concert, than go out and get it, it is cheap, and or buy tix to the show! IF you live in the Nashville area, or are going to be in Nashville around Sept. 2, then go to the link below to get your tix for only $10.75! That's all for tonight, so sleep gooey, and I will see you later... zzzzzzz....zzzzzz..... zzzz.... sleepy.....

Click here for your $10.75 tix to the Nashville show!

-----------------------------------------------------------

August 21 2002

Updates, Updates, Updates!!! Well, there is a lot that has been done, so let me start... There is a new poll (I need more, so e-mail me them), a new website on the links page, a new question of the month, new GOO OF THE MONTH, I added another link to the contact me page, 2 more things

to the FUN STUFF page, and think that is all for now. If I see something else that I updated, I will put it in here! About the Goos, did you all see the Tour Diary from yesterday?? It was great! If you did not see it, then go to the FUN STUFF page, and it will be under there. The Goos are doing a show called Music In High Places, and I can't wait for it to air! They are still on tour, and I don't think all the tix are gone, so if you want to see the Goos on tour, then click on the tour dates page, and see if they are coming near you! If they are, go to www.ticketmaster.com, and buy your tix! THe Goos are doing a lot of radio interviews all over the country, so check your local radio stations. And they will lbe on TV soon again, so check those listings too!!! I guess that is all, so have a very GOOEY day, I am out!

-----------------------------------------------------------

August 18 2002

Well, I am very busy right now, but tomorow, I am updating. So check back often! See ya!

-----------------------------------------------------------

August 10 2002

So how's it going??? Well, me I start school on Monday, bummer. But I am kinda lookinf forward to it! I bought a bunch of new clothes today! LOL Anygoo, to the GOO news............I have been hearing a lot about the Big MAchine Video, and I think that they are really going to film one, not just the Storytellers version, cuz that is what the Tour Diary said. But that is just my opoinion. I was reading all the old Daily Goo's today, and that is so entertaining........... get a CD, a cop of coffee, and a lot of time on your hands, and sit down and read them all!!! I got the Bob and Tom show in the mail a couple of dayz ago, I think it is the funniest thing I have ever heard them on!!! And about updates on here, let's see, I added a concert experience. It's cool. And just to tell you, I think Johnny looks the hottest I have ever seen him when he hosts "The List", just thought I would tell you. If there is something on my site that you would like to see improved, or something you don't see that you would like added, or anything you want to tell me or give me, e-mail me here - rd-mac@juno.com. Well, it's midnight, I am going to hit the sac........................

-----------------------------------------------------------

August 7 2002

Woooow, I am exausted, I hiked 14 miles today!!! Well, for Goo news, don't really know!!! LOL. I just wanted to say HI to all the people who actually read this!!!

-----------------------------------------------------------

July 31 2002

Well, the Goos kicked off thier on the 29th. I wish I could have been there. They were on Leno this past Friday night, as we all know, and they were really good!!! I loved Johnny's hair, and he wore his necklace again, yay!!!!!! I am adding pix of Robby, and I think the Johnny Pix are done! If you haven't, please sign the petition, in Fun Stuff! Thanks, and have a Gooey day!

-----------------------------------------------------------

July 23 2002

Good day! I am still working on those pix, although I have managed to dig up some good old ones! The message boards are really active! I can barely keep up with all the info! I have a good Fan site that does not have a banner yet, so I will put her link in here.

http://www.angelfire.com/band2/googoodollsdomain
It is a really good site. The Goos are still in Alaska as far as I know. I can't wait for that show to air! Well, I guess that is it for now! Have a wonderfull GOO day! Peace.

-----------------------------------------------------------

July 21 2002

How are you all on this fine Sunday afternoon? Well, I am still (it's going to take 4ever!) working on the pictures section. If all goes as planned, then I will have pics of the boys indevidulaly (??), and pics from all the albums. So keep checking back for that. I have added some new sites to the links page, I encourage you to check those out. I added a pic of the Goos as kids on the Fun Stuff page, and people are still signing the Robby Petition, so if you haven't signed it, then sign it! I love to go to the message board, so if you haven't gone there, you need to! Go to the links page and to World Of Goo, and then the message board. My name is DizzyGOOGirl, if you want to look for me :). See ya!!!!!

-----------------------------------------------------------

July 19 2002

Howdy!!!! OK, sooo sorry about taking so long to post! Tripod would not let me update, then I went to camp for a week, blah, blah, blah... Anyway, well the GOO GOO DOLLS store has a couple of new things. You can check it out at the buy goo merch part of my site. I got 6th row tix for the Nashville show that I am going to! I added a quiz, a poem to the FUN STUFF page, and a couple peoples encounters, thanx again. Keep requesting Big Machine! See ya, I am gone!

-----------------------------------------------------------

July 6 2002

Hey, folks! What's happening? Well, me I just went to my first guitar lesson. It was so much fun and my teacher said I can learn Goo Goo dolls songs. I will be adding an interview with Robby that was in the Bass Player magazine from June, if you have nto read it, check out the fun stuff page over the next week. Really cool article. The new contest over at www.googoodolls.com is up and running. Kinda hard question, but you get to meet them if you win, so I guess it should be hard.LOL.If you have a concert review, encounter, whatever and want me to put it up, Please e-mail it to me. Thanks, and ta ta. rd-mac@juno.com.